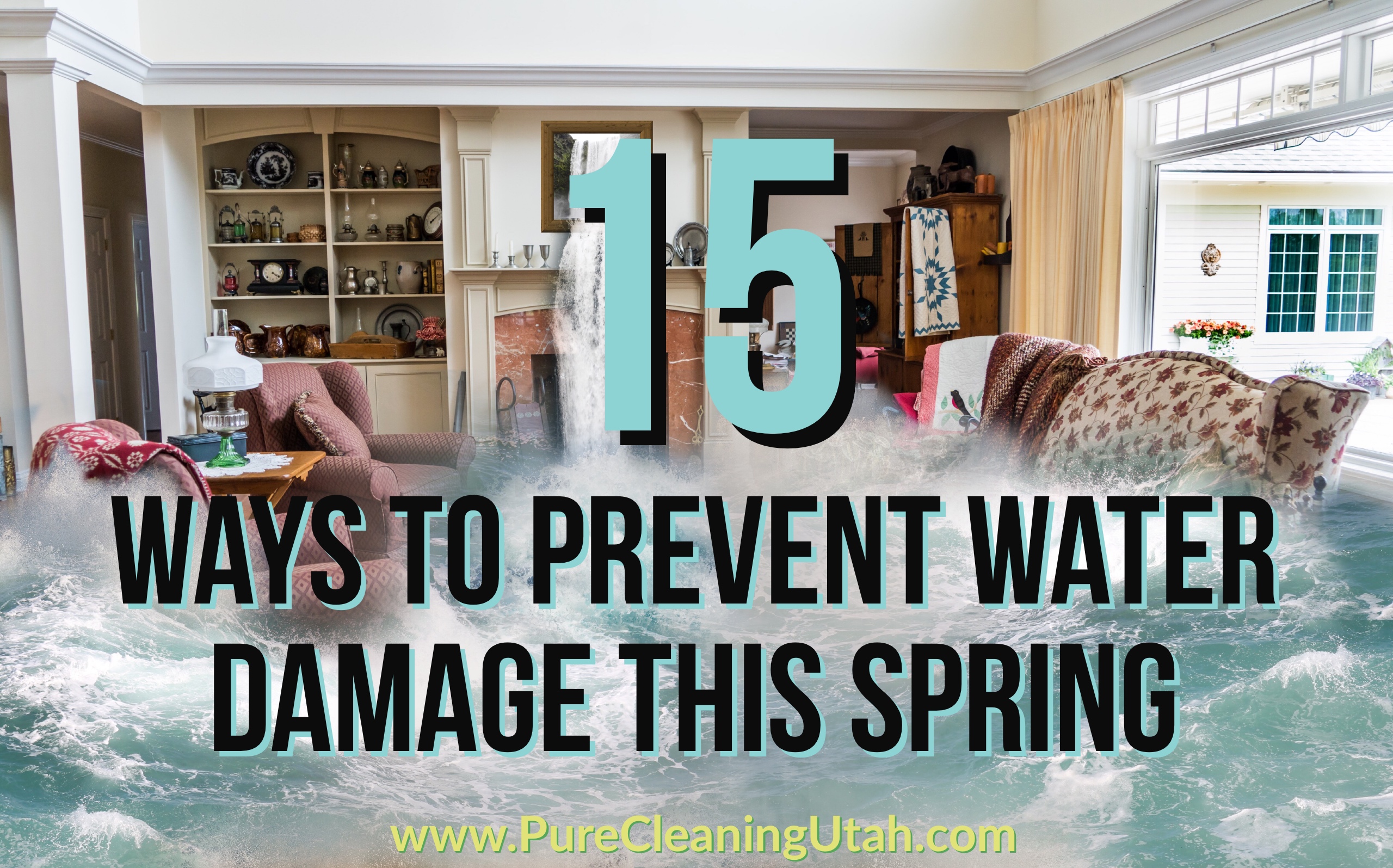 We had a very SNOWY winter this year in Utah!  While the temperatures start to rise, flooding can become a significant (and expensive!) issue for many Utah homes, basements, and office buildings.
Prevention is essential this time of year as the snow melts from our majestic mountains and we accumulate more rain water.   However, if you already have water damage, please call us right away to clear away the water and fix the damage.  Call or text 801-750-2928.
15 Ways to Prevent Water Damage this Spring
Clean out your gutters & downspouts.
Remove Ice Dams before water leak occurs.  Rake snow off with a long-handled aluminum roof rake or fill pantyhose with calcium chloride ice melter and add to roof so it crosses the ice dam and gutter.
Ensure water is running at least 6 feet away from the house.  Consider an underground drain pipe or French drain.
Install a sump pump that automatically pumps water out from the basement and keeps water from rising.
Make sure your ground doesn't slope towards home.  The dirt should be at least 6 inches higher at base of home above the first 10 feet in all directions.
Seal any gaps or cracks in the walls, floors, foundations and windows of entire house.  Use polyurethane caulk or hydraulic cement.
Replace any missing roof shingles.
Waterproof interior basement walls with silicate-based concrete sealers, concrete coatings, waterproofing paint or plastic panels.
Watch your water bill.  If your bill peaks higher than usual, you may have a potential leak in the pipes hidden behind walls and floors.
Install an automatic emergency generator to help during potential blackouts.
Use a drain snake instead of the unclogging chemicals.  These chemicals can eat away at your pipes and create future problems.
Check appliances regularly & upgrade washing machine hoses.
Be careful where you add trees & plants that may have invasive roots.
Add porous pavement around house to help absorb rainwater and melting snow.
Make sure your drainage systems and plumbing are working properly.
If flooding does occur in your home or office, contact a water damage professional immediately.  For safety reasons, don't come into contact with the floodwater.  Call us at Pure Cleaning & Restoration services for water damage removal and repair services at 801-750-2928.