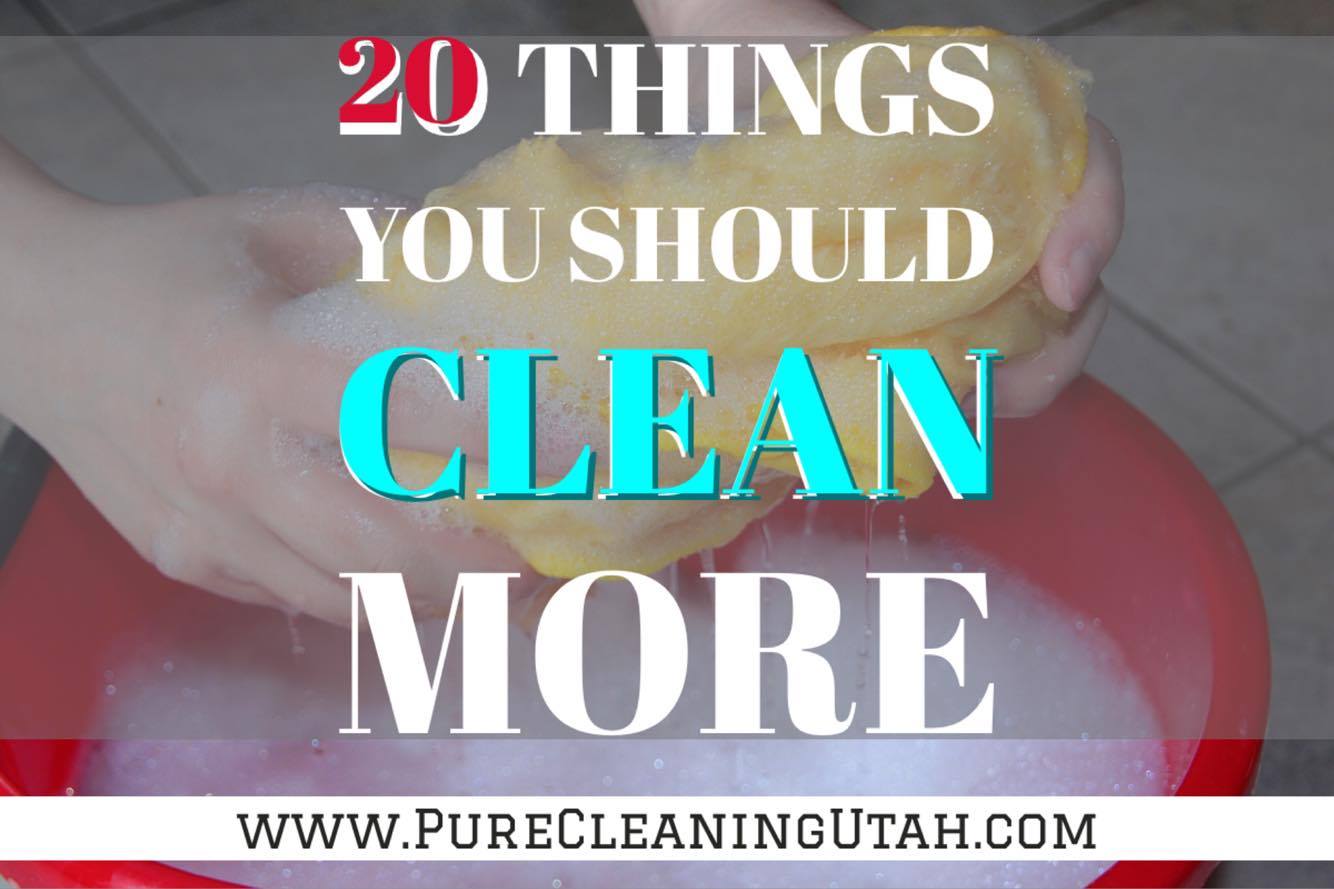 Here are 20 Things you should CLEAN more often in your home!  Many of these things get overlooked but can be essential in keeping your home clean and reducing allergens/bacteria for your family's health.  Please feel free to SHARE this list to your friends & family!
Wooden cutting boards: Try using salt & lemon to reduce odor.  Try not to use wooden cutting boards for raw meat.  Use anti-bacterial soap and scrub.
Kitchen sponge: Don't leave in sink, let air dry on counter or dish.  Wash with soap, replace every 2 weeks.  Or use a Norwex cleaning cloth that kills the bacteria due to the silver within the cloth and can be cleaned with very hot water.
Walls/baseboards:  Wash down every few months
Bathtub toys/ kids toys:  fill a bucket with warm water + 1/2 cup white vinegar and let soak in for 10 minutes then gently clean off with cloth or sponge.
Under your oven:  pull out the bottom drawer, vacuum, and clean floor
Refrigerator Condenser Coil:  Use vacuum attachment 1-2x per year
Under your couch/chairs:  Move your couches & chairs and vacuum/clean carpet underneath.  Try to push away furniture when carpet cleaner comes.
Your mop:  Detach & put in washing machine
Light switches:  Use cloth with mild soap & warm water to wipe down.  If very dirty, remove plates and clean separately.
Door knobs:  Wipe down with anti-bacterial soap & wet cloth
Remote Control: Use Norwex cloth or Q-tips dipped in rubbing alcohol to get buttons
Cell Phone: Clean daily with anti-bacterial cloth
Your computer/laptop:  Dust weekly, use spray & cloth that is safe for screen, turn keyboard upside down & spray with condensed air can, clean sides of keys with Q-tip dipped in rubbing alcohol)
Front door area:  Wipe down this whole area to remove dirt, cobwebs, and grime.
Wooden chairs/ stools:  Wipe down the legs of the chairs and stools with a warm wash cloth + mild soap.
Dishwasher:  run empty with a dishwasher-safe cup filled with white vinegar on the top rack.  Then run dishwasher again with a cup full of baking soda sprinkled on bottom of dishwasher and run with HOT water.
Mattress:  Put 1 cup of baking soda in mason jar with 4 drops of lavender essential oil.  With kitchen strainer, sprinkle mixture directly to mattress.   Leave on there for an hour.  Then vacuum up with attachment.
Bed Pillows:  Check cleaning instructions, clean in washing machine.
Bathroom mats:  Clean in washing machine in HOT water along with a few towels then tumble dry low.
CARPETS:  With all the foot traffic, dust, pets, & germs – the Carpets gather a huge amount of dirt & bacteria.  Get your carpets professionally cleaned to improve life of the carpet and for a better clean.  We would love if you used us at Pure Carpet Cleaning, give us a call at 801-750-2928.