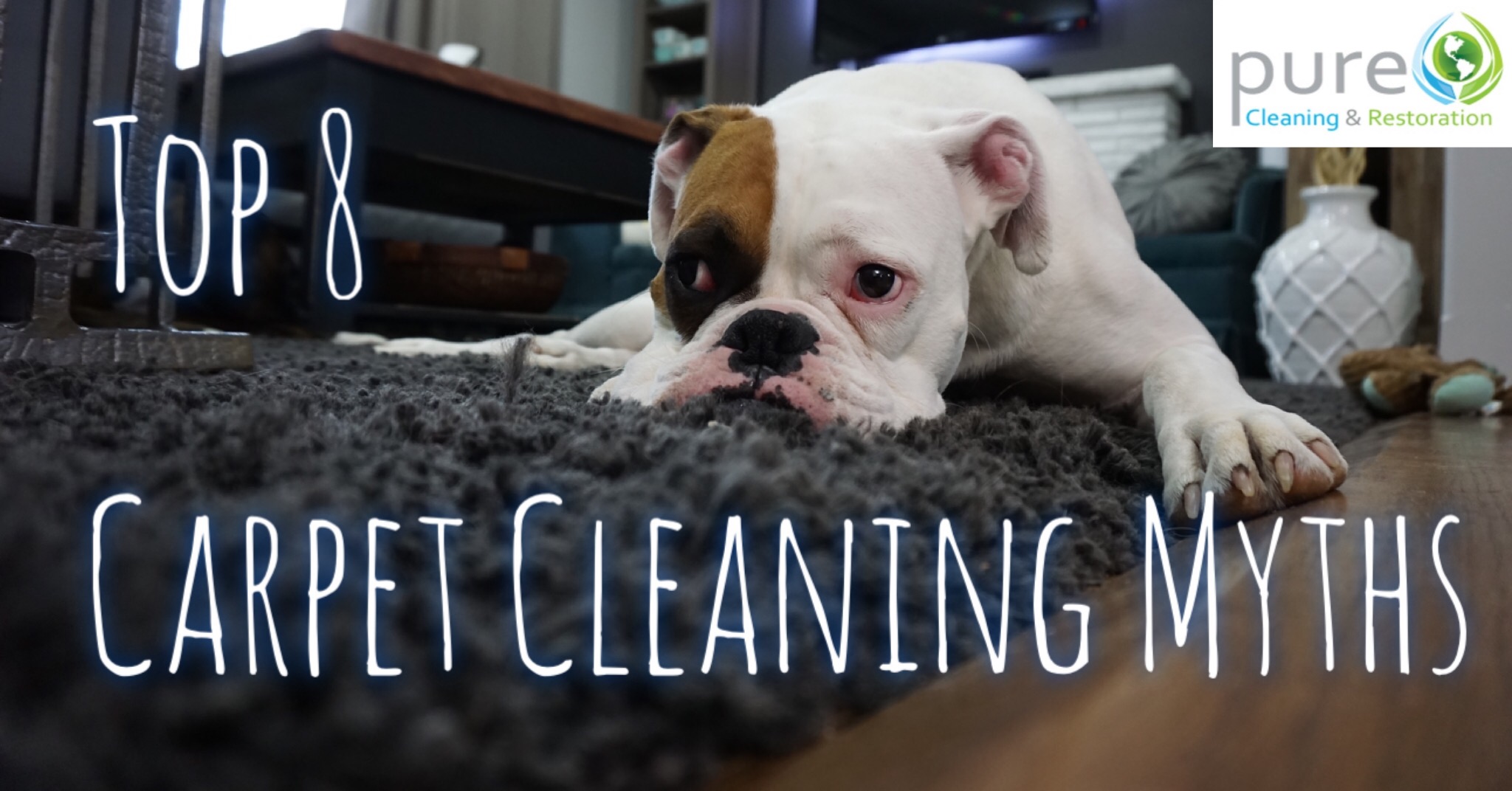 As carpet cleaners, we have the privilege to meet thousands of people from our local communities and transform the entire look of their home from our quality efforts.  We hear many, MANY carpet cleaning questions and myths along the way, some a bit wilder than others!!  We have gathered those into our list of the Top 8 Carpet Cleaning Myths.
Carpet Cleaning Myth 1:
My carpet cleaning machine is as good as calling a professional
FALSE.  Most of these home-based carpet cleaning machines can do more harm than good.  While they may do a great job releasing water into your carpet or even removing a couple stains, they don't have the force necessary to EXTRACT the water out of the carpet to keep your carpet from growing mold, mildew, and bacteria. Also these machines tend to use harsh chemicals to clean carpet, whereas at Pure Cleaning, we only use chemicals that are safe for your family and environment. Its best to leave the carpet cleaning to the professionals.
Carpet Cleaning Myth 2:
My carpet is only a year old so it doesn't need to be cleaned.
FALSE.  A year is a long time to gather dirt, dust, and bacteria! If you wait until you see the dirt in your carpet, then its probably already damaged.  The dirt that is deep down in the fibers is what harms the carpet, which can't be removed by a vacuum cleaner.
Carpet Cleaning Myth 3:
Carpet deodorizers keep my carpet clean & fresh
FALSE.  Carpet deodorizers actually cause harm to your carpet and more dust in your home.  Its nearly impossible to vacuum up all the particles, leaving these particles to get on your family and in the air.
Carpet Cleaning Myth 4:
All carpet cleaners are the same, so I just go with the cheapest deal.
FALSE. Not all carpet cleaners are the same!! In carpet cleaning, there are 2 different types of companies.  There are the companies offering the lowest prices to get as much business as possible. In order to keep their costs down, they typically hire inexperienced technicians using sub-standard equipment that isn't properly maintained.  The proper equipment to get your carpets cleaned RIGHT costs tens of thousands of dollars.  Their equipment and technicians may not be able to remove the excess water from your carpet. They may not know how to properly remove stains, leaving sticky residue behind.  The cheapest company may not use PURE and safe cleaning products in order to keep costs low.  You can be assured that at Pure Cleaning & Restoration, we are the 2nd type of company.  We focus on QUALITY and amazing results that will keep you calling us for years to come.
Carpet Cleaning Myth 5:
You should only get your carpets cleaned once per year.
FALSE.  While our Restorative Carpet Cleaning Method may only be needed once (or twice) per year, we also offer our Low-Moisture Cleaning Method which is perfect to maintain your carpet especially in the high traffic areas.
Carpet Cleaning Myth 6:
Cleaning my carpets will make them get dirtier faster!
FALSE.  If you hire a high quality professional, like Pure Carpet Cleaning, this wouldn't happen because we don't use harmful agents to clean your carpet AND we don't leave sticky residue and soil behind.
Carpet Cleaning Myth 7:
If carpet doesn't look dirty, I don't need to clean it
Yes you still should get your carpets professionally cleaned every 6-12 months. The dirt may be hidden well in your carpet, but it still acts as an abrasive which will deteriorate your carpet's fiber and color.
Carpet Cleaning Myth 8:
Waiting as long as possible for carpet cleaning can save me money.
FALSE.  While it may seem like you are saving money on getting your carpet cleaned, you are also decreasing the lifespan of your carpet.  Carpet cleaning may be costly, but new carpet is VERY expensive!  Its important to protect your investment.  Additionally, avoiding carpet cleaning can add more pollutants and bacteria in your home, risking the health of those living in your home especially if you live with allergy sufferers and people with asthma and other health-related issues.
At Pure Cleaning & Restoration, we offer the highest quality in carpet cleaning, tile/grout cleaning, upholstery, rugs, hard flooring, air ducts, windows, and we provide 24/7 damage restoration services. We'd love the opportunity to show you the PURE cleaning difference!  Call us at 801-750-2928 to schedule.