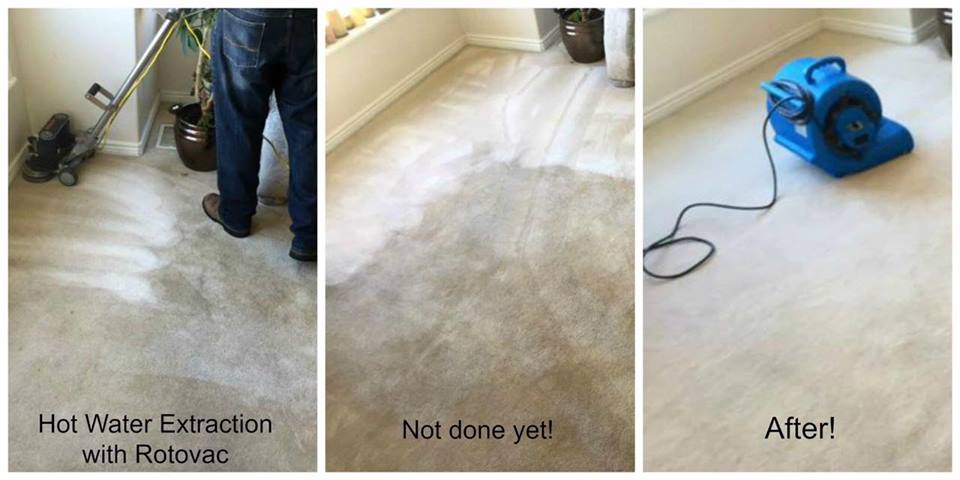 At Pure Cleaning, we provide customized care to get your carpets as clean as possible. During the inspection process, we will analyze the construction of the carpet, the soiled areas, and the condition of the carpet.  After the inspection, we create your customized cleaning plan and decide whether you need our Restorative Cleaning method or Low Moisture Cleaning method.  Many people ask us, what is the difference between your Restorative carpet cleaning and the Low Moisture carpet cleaning?  Let us break it down for you.
Our Restorative Carpet Cleaning (hot water extraction) begins with a dry soil removal using counter rotating brushes that loosens up the soil from the fibers in a gentle way before pre spraying. Then we will pre-spray and go over with our brush machine again to agitate the cleaning solution. Next, we begin hot water extracting using machinery that rotates and has the capability of going through more passes over the carpet than a regular wand. Using these machines allow us to use lower pressure which leaves your carpet less wet and insures that we pull out all of the soil. When we finish hot water extracting, we begin our bonnet cleaning that helps absorb any more soil and moisture. We place air movers to speed up the drying process and we finish off with grooming the carpet at the end.
Low moisture carpet cleaning is a basic maintenance cleaning to reduce traffic patterns, stains, and more.  Low moisture means we will remove the soil and particles from carpet so there is less friction to improve life of your carpet.  First, we remove particles and free dirt from the carpet area.   Then, we spray a safe cleaner (environmentally safe too) on the carpet which crystallizes and locks into the fibers.  Lastly, we clean it up with our brush pro system.  This is a quick service and is suggested every 2-3 months.
Low moisture cleaning is great to do 2-3 times before the restorative carpet cleaning.  Restorative cleaning is recommended every 12-18 months.   We are currently running a low-moisture carpet cleaning special!  Give us a call or text at 801-750-2928.