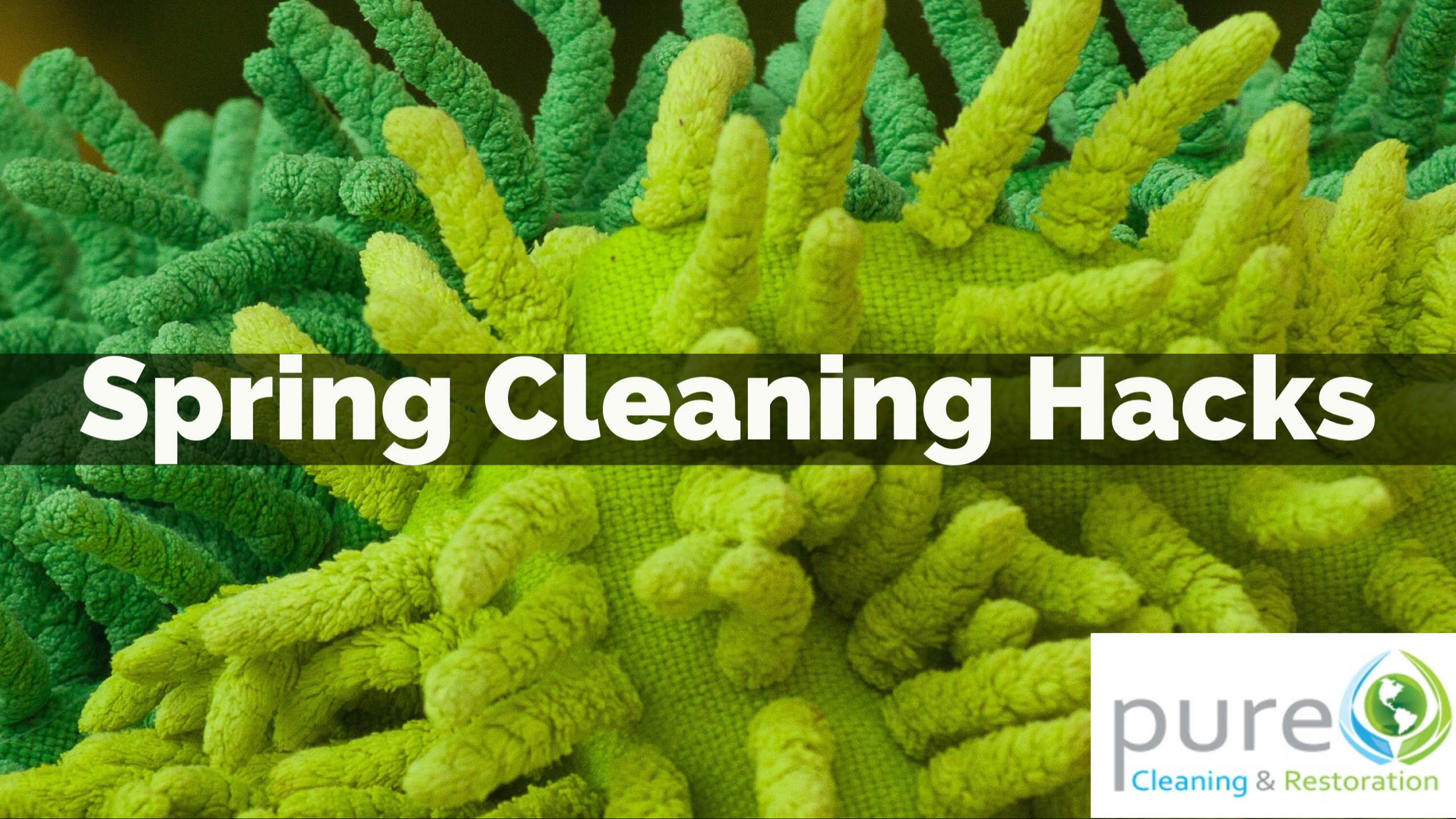 As you tackle your Spring Cleaning projects, we'd like to give you some Spring Cleaning Hacks to help speed along the process for you! Keep Pure Cleaning & Restoration in mind to professionally clean your carpets, tile/grout, hardwoods, air vents, upholstery, rugs, windows, and for our cleanup/restoration services from water, fire, mold, or storms.
Enjoy this list of cleaning hacks!
Clean Window Tracks by adding baking soda into the dirtiest areas, then pour some vinegar. Let sit about 10 minutes. Scrub with a toothbrush and wipe off!
Get Rid of Soap Scum with halved grapefruit and salt. Scrub.
Dust hard to reach places by attaching microfiber cloths around a broom with a rubber band.
Keep Toilet Brush fresh by pouring a bit of Pine-Sol to the bottom of the holder.
Remove hard water deposits from shower head pouring distilled white vinegar into plastic bag then cover shower head with bag by securing it with a rubber band.  Let it soak at least a couple hours, then wipe away deposits.
Deep Clean your mattress with baking soda, essential oil and a vacuum.  Add 2-3 drops of your favorite essential oil to baking soda then sprinkle on mattress and let sit for at least an hour.  Vacuum thoroughly.
Clean Oven Glass using baking soda and water. Let sit and then scrub.
Clean floor vent covers by adding them into the dishwasher for a cycle.
Disinfect sponge by adding to microwave for 30 seconds.
Disinfect sponge by adding to microwave for 30 seconds.
Shine your stainless steel with a soft cloth and some rubbing alcohol.
Clean cloudy glasses with vinegar and a paper towel.
Our Carpet Cleaning "hack" is our restorative carpet cleaning – to make your carpets look like new, give us a call at 801-750-2928.